INTRODUCTION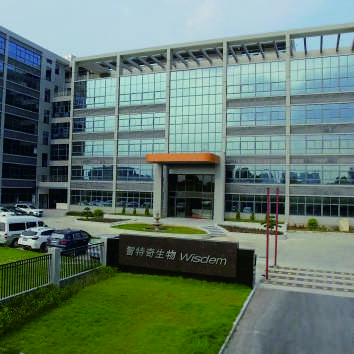 Guangzhou Wisdom Bio-Technology Co., Ltd was founded in October,1998. It is a high technology enterprise based in the field of biotechnology, specializing in the R&D, production and sales of feed additives. At the beginning of its establishment, the company dedicated to the nationlization of feed grade carotenoids, developed and produced the very feed grade yellow pigment \"Wisdem Golden \" and the very feed grade red pigment \"Wisdem Red\" in China, breaking the more than 20 years monopoly of foreign companies on the Chinese feed carotenoid market. At present, the company\'s main products include carotenoids series, antibiotics alternative series, vitamin series, which are widely used in fields like animal nutrition supplementation, animal health care.
After years of product R&D, technology accumulation and innovation, the company has established an efficient R&D system and built four core technology systems, namely, biochemical modification of natural extracts, organic synthesis of carotenoids, and microcapsule sustained and controlled release stable preparations as well as animal nutrition application. Relying on these technical systems, on the basis of further strengthening carotenoid products, it has expanded to the fields of antibiotic substitutes and vitamin products, such as plant essential oils, acidifiers, emulsifiers etc... The company has a number of core technologies in the field of biochemical technology, and has two complete sets of technologies for biochemical modification of natural extracts and organic synthesis to produce feed grade carotenoid products.
The company has fully passed ISO9001 international quality system certification and the EU FAMI-QS quality system certification. On the basis of domestic market, the products are also exported to countries and regions like Italy, the Netherlands, Colombia, Japan, Thailand, Malaysia, Indonesia and Vietnam. The company have established long-term and stable relationship with well-known companies in domestic and foreign markets such as Tangrenshen Group, East Hope Group, Haid Group, and Cargill, which provides strong protection and support for the company\'s rapid growth.
In the future, Wisdom Bio-Techonoly will adhere the entrepreneurship of \"Nothing is impossible on exploiting wisdom\", Reform and innovate, seek progress while maintaining stability, further strengthen the R&D and production of carotenoid products, and consolidate company's current product position in the industry, follow the trend of the new era, and make every effort to deepen the development of antibiotic substitutes in the field of animal nutrition and practice the development vision of \"creating ecological nutritional essence for life health\".
MARKET
Market size
Wisdom products have been sold into 25 provinces, cities and autonomous regions in China, exported to more than 20 countries and regions,such as America, Netherlands,Canada, Italy, Spain, Japan, Colombia,Mexico, Brazil, Argentina, Peru, Thailand, Indonesia, Vietnam etc.