Zinc oxide
Wisdem® Coated
Zinc Oxide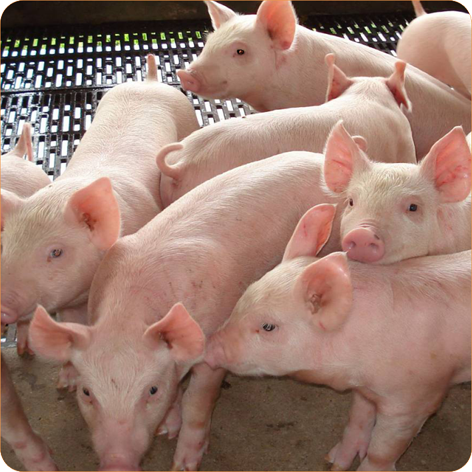 Product description
Zinc oxide min.75%, Zinc min.60%, Moisture max.8%, total arsenic (in As) max.5mg/kg, Lead (in Pb) max.10mg/kg, Cadmium (in Cd) max.8mg/kg.
Zinc oxide, Gelatin, Hydrogenated fat, Maize starch.
Uniform free-flowing grey beige granule.
100% smaller than 850um(through standard mesh 20) Max.15% samller than 250um(through standard mesh 60)
Piglet.
Usage:
The recommended dosage in compound feed
0-14d post-weaning
500-2600g/t
Package:
Store in ventilative,dry and non-pollution place, keep away from harmful substance
24 months with original packing under above storage condition.
TECHNOLOGY DIGEST
》

WISDEM® COATED ZINC OXIDE

》

Effect of Adding Coated Zinc Oxide(Wisdem Coated Zinc Oxide) and Supplementation of Different-dosage of ZnSO4 in high copper diets onGrowth Performanc...

》

Replacement of Zinc Oxide with Coated Zinc Oxide on Fecal Scores and Growth Performance of Early-Weaned Piglets

》

Coated zinc oxide improves intestinal immunity function and regulates microbiota composition in weaned piglets

》

Effects of Graded Levels of Coated ZnO on Performance, Diarrhea Score, and the Concentrations of Fecal Zn in Weanling Pigs

》

Rapid evaluation the effect of different proportion of coated zinc oxide (Wisdem Coated Zinc Oxide 75%) and common zinc oxide on piglets with diarrhea...

》

Rapid evaluation of the effect of Wisdem Coated Zinc Oxide (75%) on piglets with diarrhea by using "destructive diarrhea model"
More